Thanks for visiting the Colorado Department of Health Care Policy and Financing's Community Assistance Mapping site.
Please keep in mind that sites require an appointment before you can receive their services. Make sure you call ahead before visiting any site.
Overview
Finding the site you want is a multistep process.
This map has four active controls:
Each control updates the map separately from the others. For best results, use the controls in combination to locate sites offering services in your selected categories.
Location Search
Use this control to find an address, city, county or zip code. Enter your location information and press the "Go" button. The map will zoom to the point nearest the location you entered. If you are looking for a county having the same name as a city, enter (for example) "denver county".

Choose Categories
The items within a category can be displayed by clicking the green "+" button for that category. To select a category, click the checkbox to the left of the item description. To deselect a category, uncheck the checkbox. When you choose SELECT ALL, the checkboxes for all items in the category are checked or unchecked.
As you select and deselect items, the map will redisplay site locations having the category items you select. The site's category is indicated by the colored dots appearing on the map surface. The dot color on the map corresponds to the category item color you selected in your search. Note that sites may match on more than one category.
If you are unsure of the purpose of a category item, press the ? and a pop-up window will explain.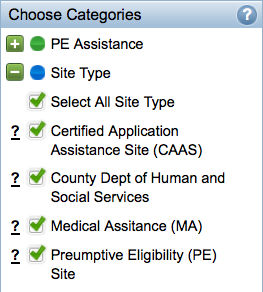 Map Zoom, Click and Drag
Zoom In / Out
If you see too many dots bunched together, try zooming in.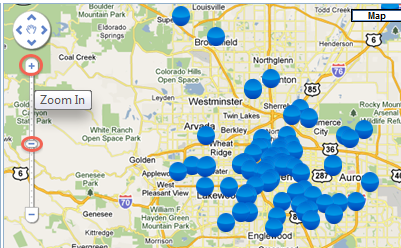 If you don't see any colored dots on the map, try zooming out.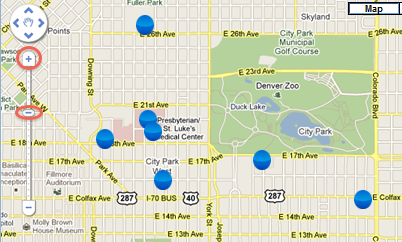 Click
You click the colored dot to see more information about that site.
(Note that sometimes multiple sites may occupy the same location, especially government buildings and office towers.)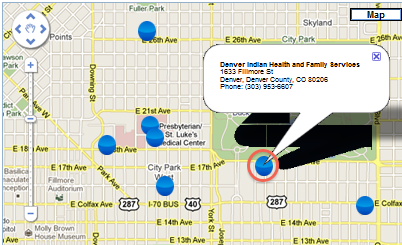 Drag
You can use the navigation control at the top left of the map to relocate your view. You may also simply click and drag the map surface in any direction to display the details of that area.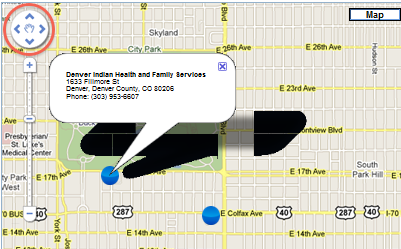 You can also use the 'periscope' drag box at the bottom right of the map.
The purple shaded area represents your view of the larger map area. Drag the purple box around to shift your view on the map.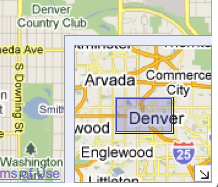 Top Three Search Results
Whenever you click a colored dot on the map, that location and the next two closest sites are listed across the bottom of the map: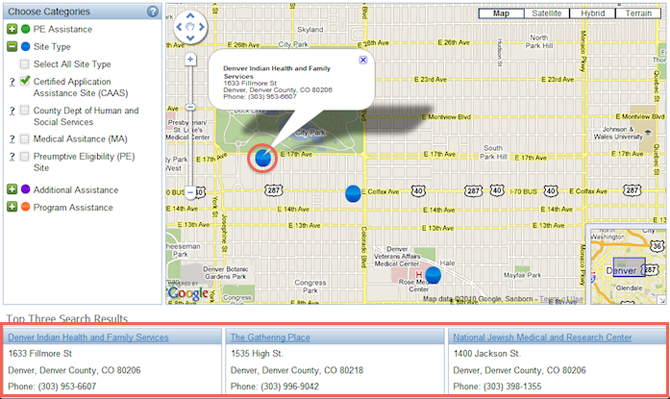 If you click the link for another site's details:

The map relocates and selects that site's colored dot so that you can find it easily: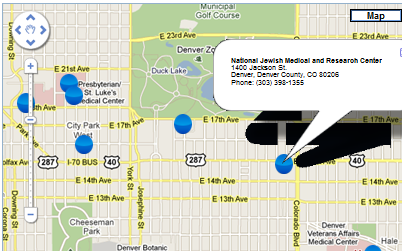 Other Information
Feedback
Use the feedback link to provide your comments and suggestions for using and improving this system.